Excavation Company in Simcoe
We specialize in Excavation for Septic Systems, Landscaping, Demolition, Haulage & Float Services
Get a Quote
Learn more
Match Grade Excavation in Simcoe County
We are a reliable excavation company in the Simcoe County Region specializing in Septic Systems, Landscaping, Demolition, Haulage & Float Services
Experienced excavation professionals you can trust!
Need to excavate your land? Looking for a reliable team of experts who can lay the new foundation of your house?
Are you wondering, "Will I be able to find excavating companies near me?"
Worry no more because MatchGrade and Excavation are here to take care of your demolition, construction, and excavation problems.
We are one of the top construction and excavation companies in Simcoe County, known for handling your excavation projects with strategic planning and high-quality equipment.
Our team of experts will assess your requirements and execute your projects within an efficient timeline by using their modern excavating equipment.
So, what are you waiting for?
Get a Quote
View Services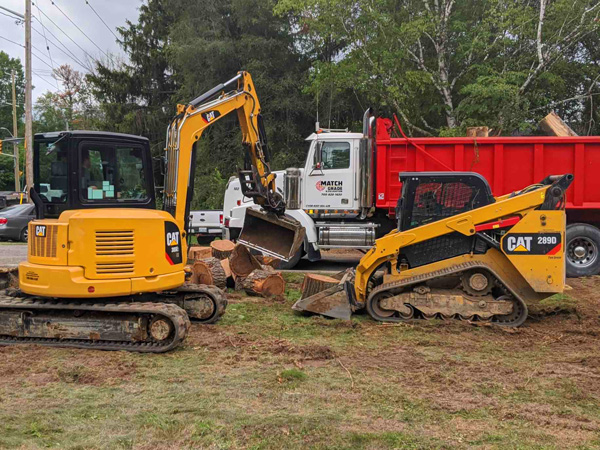 Excavation Services
We offer a variety of services for your next excavation project
Our Excavation Services
Serving the Simcoe, Muskoka, King City, Innisfil, Barrie and York Area.
Septic Systems
BioNest Install
WSB – RH2O install
EnviroSeptic install
Whitewater Install
Infiltrator install
Roth Install
Septic Field Install
Septic System Services
Septic Tanks Services
Ecoflo Systems
Commercial septic installation
Residential septic installation
Storm sewer installation
Sanitary sewer installation
Lawn and irrigation design
Lawn care and commercial maintenance
Sodding
Outdoor Lighting
Pest and weed control
Fertilization
Irrigation
Seasonal Cleanups
Snow Removal
Ice Control
Backhoe & Bulldozing Excavation
Earth Retention Shoring
Pool excavation
Footing excavation
Foundation excavation
Backfill excavation
Pool excavation
Retaining wall excavation
Landscaping excavation
Retention ponds
Entrance and Driveway excavation
Finish Grading
Lot clearing
Stump removal
Helical piles
Equestrian Surfaces
Tree planting and removal
Site servicing
Residential demolition
Commercial demolition
Partial demolition
Exterior and interior demolition
Aggregate Delivery
Topsoil
Gravel
Granite
Limestone
Boulders
Mulch
Recycled Asphalt
Analytic Services
Dangerous goods
Heavy Haulage
Freight
Waste management
Liquid or Solid Disposal
Hazardous Waste
Recycling
Get a Quote
Have an upcoming construction project and need a quote?
Reach out to our excavation experts. Call us or send us an email to get a quote today!
Contact Us
Call (705) 828-1630
Serving Barrie, Innisfil, Muskoka, and surrounding areas
Years of experience dedicated to satisfying customers
Match grade excavation is a family-owned and operated Excavation Company based in Barrie. We provide septic installation, excavation, landscaping, haulage, aggregate delivery, demolition, and float services. Through our years of experience and professional workmanship, we have been able to continue to demonstrate and deliver a high-quality level of service. We provide complete satisfaction to general contractors, homeowners, landscapers developers and builders looking for excavation services. Our team members have been professionally trained with the right excavation tools and techniques and are the experts in the field.
We service the following areas
Innisfil
Barrie
Alliston
Muskoka
Simcoe County
Creemore
Mulmur
Oro
Orillia
York region
King City
Bracebridge
Gravenhurst
Get a Quote
Every job done right and on time
Our company offers complete excavation services from design to finish